THE POLICE – Every Move You Make 6 VINYL BOX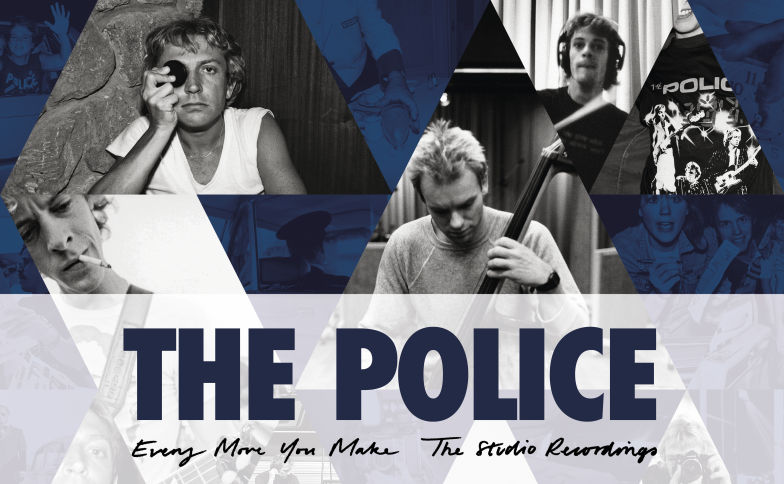 Every Move You Make: The Studio Recordings è un cofanetto di sei vinili con la discografia in studio completa su Vinile: tutti i cinque album in studio dei Police, oltre a un sesto disco composto da 12 tracce, "Flexible Strategies" con esclusive registrazioni non comprese negli album e B-sides.
Rimasterizzato agli Abbey Road Studios da Miles Showell in "half-speed" e inciso su Vinile 180g, questo cofanetto realizzato in edizione limitata celebra il 40° anniversario del primo album della band, Outlandos d'Amour. La speciale confezione include anche un esclusivo libro fotografico di 24 pagine, con immagini inedite tratte dagli archivi personali della band.
Gli album in studio dei Police sono: Outlandos d'Amour (1978), Reggatta de Blanc (1979), Zenyatta Mondatta (1980), Ghost in the Machine (1981) e Synchronicity (1983).
Formatisi nel 1977, i Police sono composti da Sting, Stewart Copeland e Andy Summers. Il loro contributo alla storia del rock è stato immenso. L'originalità della loro musica ha fuso elementi punk e reggae ridefinendo uno stile nuovo e brillante che può essere descritto solo come "la musica dei Police". Con oltre 50 milioni di album in tutto il mondo, i Police hanno da sempre ottenuto incredibili riconoscimenti di critica e pubblico.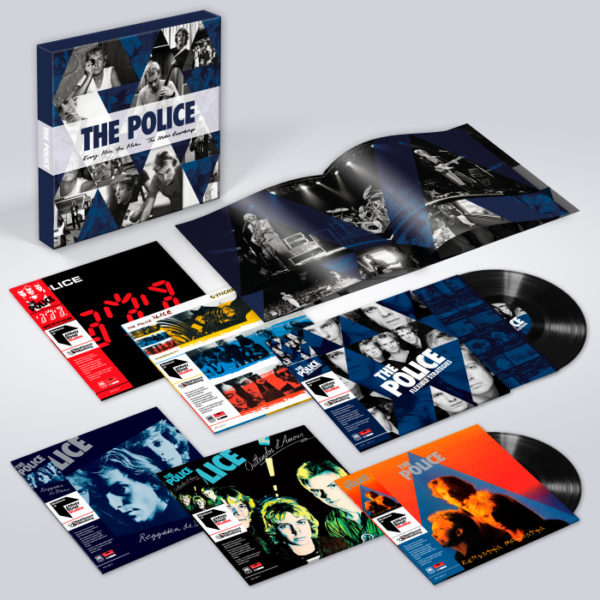 OUTLANDOS D'AMOUR (1978)
Side One:
Next to You
So Lonely
Roxanne
Hole in My Life
Peanuts
Side Two:
Can't Stand Losing You
Truth Hits Everybody
Born in the '50s
Be My Girl – Sally
Masoko Tanga
REGGATTA DE BLANC (1979)
Side One:
Message in a Bottle
Reggatta de Blanc
It's Alright for You
Bring on the Night
Deathwish
Side Two:
Walking on the Moon
On Any Other Day
The Bed's Too Big Without You
Contact
Does Everyone Stare
No Time This Time
ZENYATTA MONDATTA (1980)
Side One:
Don't Stand So Close to Me
Driven to Tears
When the World Is Running Down, You Make the Best of What's Still Around
Canary in a Coalmine
Voices Inside My Head
Bombs Away
Side Two:
De Do Do Do, De Da Da Da
Behind My Camel
Man in a Suitcase
Shadows in the Rain
The Other Way of Stopping
GHOST IN THE MACHINE (1981)
Side One:
Spirits in the Material World
Every Little Thing She Does Is Magic
Invisible Sun
Hungry for You (J'aurais toujours faim de toi)
Demolition Man
Side Two:
Too Much Information
Rehumanize Yourself
One World (Not Three)
Ωmegaman
SYNCHRONICITY (1983)
Side One:
Synchronicity I
Walking in Your Footsteps
O My God
Mother
Miss Gradenko
Synchronicity II
Side Two:
Every Breath You Take
King of Pain
Wrapped Around Your Finger
Tea in the Sahara
BONUS DISC: FLEXIBLE STRATEGIES (2018)
Side One:
Dead End Job (1978)
Landlord (1979)
Visions Of The Night (1979)
Friends (1980)
A Sermon (1980)
Shambelle (1981)
Side Two:
Flexible Strategies (1981)
Low Life (1981)
Murder By Numbers (1983)
Truth Hits Everybody (Remix) (1983)
Someone To Talk To (1983)
Once Upon A Daydream (1983)