Recensione: BILLIE EILISH – When We All Fall Asleep, Where Do We Go?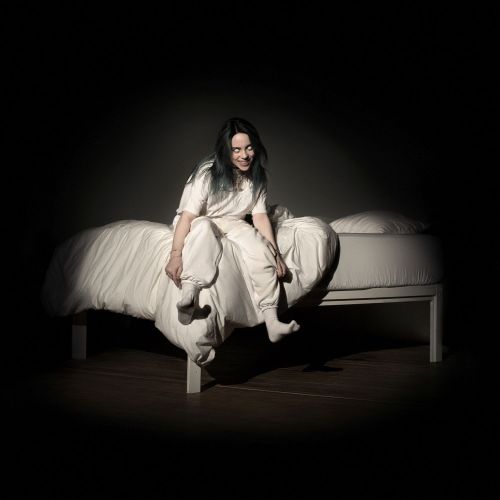 Billie Eilish è una predestinata al successo. Il nome di questa diciassettenne di Los Angeles gira ormai da mesi tra gli addetti ai lavori, critici e ancora più tra il pubblico. Billie Eilish interpreta alla perfezione la generazione Z e la sua musica più visionaria.
I suoi brani sono sogni e incubi, paesaggi di marshmallow e mostri sotto il letto. Ossessioni e fragilità giovanili che trovano spazio in uno stile di scrittura quasi spudorato e oltraggioso. Se volessimo fare un parallelismo ci vedrei, non tanto come modo di cantare o per i suoni, ma piuttosto per l'innovazione e il talento la Bjork di Debuts.
Il disco è stato scritto, prodotto e registrato interamente da Billie e dal fratello Finneas nella loro casa di Highland Park, Los Angeles. Registrato nella camera di Finneas, davanti a quella di Billie, i due hanno passato la maggior parte del 2018 scrivendo brani in viaggio, e il resto dell'anno a casa, a registrare il disco.
La sua musica non si riesce ad etichettare in modo preciso in nessun genere ma al tempo stesso racchiude differenti elementi.
Un po' principessa del dubstep (Bad Guy), un po' Ariana Grande (My Strange Addiction) un pò Alice nel paese delle meraviglie (Bury a Friend), un po' una Jessica Rabbit ipnotica che ondeggia distorta tra atmosfere jazzy (Xanny ), un pò Kate Bush 2.0 (When the Party's Over), un po' incubo ukulele (8), un po' romanticismo cupo e straziante da delusioni d'amore adolescenziali (Listen Before I Go e I Love You).
Appena dopo la conclusiva Goodbye ci si risveglia da questa oretta di sogno.
Sto bene ed ho voglia di ripartire da capo ad ascoltarla.
Score: 8,15
Tre brani da ascoltare subito: Bad Guy – You Should See Me in a Crown – I Love You

Quotes:
white shirt
now red my bloody nose
sleeping
you're on your tippy toes
creeping
around like no one knows
think you're so criminal
bruises
on both my knees for you
don't say
thank you or please i do
what I
want when i'm wanting to
my soul? so cynical
so you're a tough guy
like it really rough guy
just can't get enough guy
chest always so puffed guy
i'm that bad type
make your mama sad type
make your girlfriend mad tight
might seduce your dad type
i'm the bad guy
duh
(Bad Guy)
baby i dont feel so good
6 words you never understood
"i'll never let you go"
5 words you never say
i laugh alone like nothing's wrong
4 days has never felt so long if
3's a crowd and
2 was us
1 slipped away
i just wanna make you feel okay
but all you do is look the other way
i can't tell you how much
i wish i didn't wanna stay
i just kinda wish you were gay
is there a reason we're not through?
is there a
12 step just for you?
our conversations all in blue
11 "hey"s
10 fingers tearing out my hair
9 times you never made it there
8 alone at
7 you were
6 minutes away
(Wish You Were Gay)
Tracklist:
!!!!!!!
Bad Guy
Xanny
You Should See Me in a Crown
All the Good Girls Go to Hell
Wish You Were Gay
When the Party's Over
8
My Strange Addiction
Bury a Friend
Ilomilo
Listen Before I Go
I Love You
Goodbye
Discografia:
2019 – When We All Fall Asleep, Where Do We Go?
Video:
Se ti è piaciuto ti consiglio anche: