MV Killa, Yung Snapp, Vale Lambo, Lele Blade, Niko Beatz, Geolier per RED BULL POSSE [Guarda il video]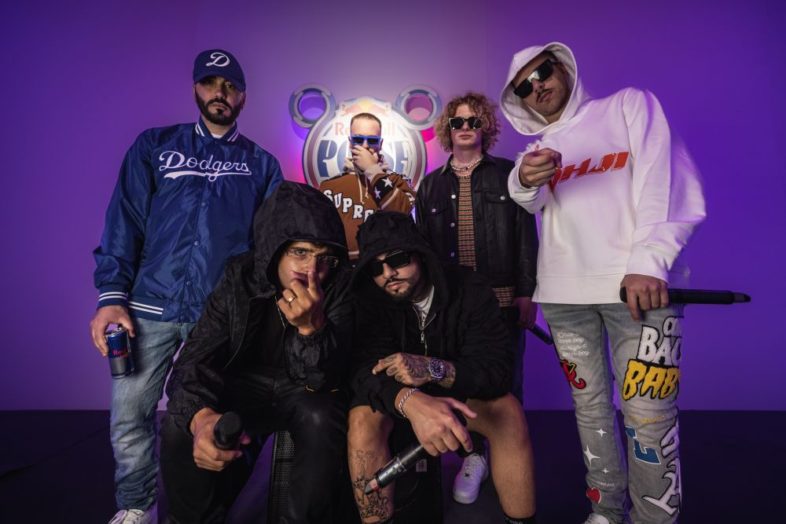 I protagonisti del nuovo episodio di Red Bull Posse sono MV Killa, Yung Snapp, Vale Lambo, Lele Blade e Geolier, con un brano inedito prodotto da Niko Beatz, disponibile sul canale YouTube Red Bull Droppa.
Una traccia che è un nuovo manifesto del talento del collettivo partenopeo SLF, ai quali si affianca Geolier, come già successo nel loro progetto d'esordio
IL VIDEO
IL TESTO
MV KILLA
Fast Life comm e G.U.E
Miezz a vij nuje stamm attiv qual Coolin Break
SLF Int o Showbiz
quann parl e nuie puort chiu rispett
Bro si na Pussy, nu Sneaky
Quann me vir Nun è Easy
Yeah So Gelus, Vac Ngopp Int a Chart
Quann Copp Supreme
E quann Dropp cu Sneezy Yeh
Si te piens ca vai chiu fort
Okay, Puo chierer a Enzo
No Je nun so Nice, No
Bitch Je so Handsome
Sbagl cu me e nun vai manc
Int a Friendzone
Loco, Crazy, E Scoppij nguoll Tip Benson
Je nun arraggion cu nu Miezz Omm
Cash Flow, Ncass Int a na mezz or
Aggia muri Int piscin e na Mansion
Ca si o pens po se manifest
Tu vien aropp comm e Manifest
N'è pa Fam, Pa Squad, Pa Crew, Pa Gang?
Je nun vac ngopp a l'ati fest
E Nun vest Palm Angels megl Avirex
Big Time, Vogl Big Racks
Tu 69, Si nu Big Rat
Shorty Ten O Booty Comm Big Big Mac
Ye
E ossai ca nun parl assai,
Ma to spieg comm e Khabi Lame
Juoc e scacc si stai int o Game
Tu te Spar ngap comm e Kurt Cobain
Vuo Fa Crips e Blood,
E pur o Fashion Blogger
Nuje o sapimm ca fai sul fint
E fatt e tarantell, ma tutt o burdell
Si stai miezz a vij tu pigl sul o fridd
Yung Snapp
Shawty nvo perdr tiemp
Ess gia è crisciut nc piacn e sciem
She from Napl
Puort rispett t'quant c sapn
Si sto magnann n'taiz ra tavl
Fann e sciem p 2 ann s'sbattn
Po stann chin e giall pche carn
Nun cuntà e pall si e pall t mancn
Chest è real life nc' cuntamm e favl
ind na suite a Surrient' cu Stephanie
A uagliona toj par l'epifanij
Vogl' a na psicopatic isterc
SLF nui simm l L'americ
So t'figl re nuost
Nfacimm l'artist naaah
Facimm l'ostetric
Teng o stipendj c fann 3 mierc
Ca tredicesim
Rolls royce truck a mergellin'
I Nun bev o lean i m' bev o vin
Stamm ra ann, stamm semp in gir
Tu si nu trend si comm e spig
Si m spar nguoll almen pigl'buon a mir
Nun m sagl' o sang' ngap si teng l'Amiri
P' fa na vacanz speng almen 10000
Stong ind' a aerej stong n'ciel nun m vir
Amm fatt sord cu l'eur piens a lir
Amm fatt disc r'or ricenn Meliro
Agg fatt schif e chell' ancor m' scriv
A Milan o studj po' sceng a sunà a Sicilij
Amm rat na man' a chi ns ammerit nu rit
Hann scassat o cazz, mo s hanna ì ra cà
Vale Lambo
Tic Toc vir sta arrivan o mostr
Sceng e nott pke stong nsiem e ghost
SLF in the game è tutt appost
Manueeee guard a chell commè tost
Ah ah ah ah
Mo si vuo trasì fra t serv natu pass
chist ha fatt o scem ha fatt o scem che cumpagn
Ma mo le pigliat prp tutt rinde pacc
A Secondiglian nun fa o scem piglij e buff
E fatt Mask Off nun te fa buon e cunt
T zomb pe cap ammo comme DeadPool
Mo e pisciam nguol jesc prp a Red Bull
ye ten a glock
SLF in the game motherfucka
Tu fai appost tu fai appost
SLF in the game motherfucka
Lele Blade
Slf we bullet proof nun ce serv a gang ne o bodyguard
Simm stell stampat ncopp all'asfalt Hollywood boulevard
Dess a vit pa squadra mia comme un hooligan
E fin e quand nun me vir rint a nu cullinan
E vre ancor chesti pussy comm e cumbinamm
Da criatur me sunnav e fa nu buc rint a banc
Mo é tutt a post, ok
VVS or bianc teng e buc nte man
Ca me cadono e sord ok
Wanna be vonn fa a drill comme in uk
Sol e mi ,sol a famiglia,n'mocc n'ak Forty seven
So nu fuori, class Fuoriserie..
Ammo chi t sap, fa o brav fa o serij
Improbabile ca ce firm e fa n omicid e nun é cosa vost
Intoccabil comm o film fra i so Alpacino tu Kevin Costner
Sett ncopp a sett, ye we dont stop ,simm a sett comme cosa nostra
Voglio tutt cos a tutt e cost
Fatt o gir ncopp o roller coster
Everyday im hustlin comme Rick Ross
Parl buon o pigli e buff comme cris rock
A copp e cross a rint all'Audi, pit stop
Me ne fuj da e cops, baby in god we trust
Geolier
S sent c mient ra com raccunt
Teng nu bro m raccont ca si t raccont pigliass l'appunt
Teng 20 ann e n'album
Fratm ten 20 ann e na figl
A pigliat 20 abbuscat na cifr
Anbuscat re uard e pur ra dia
C lav ca mamm e pur cu dij
Ag rifiutat femmn nto camerin
Rifiutat coc
Rifiuta sord
Fiutat l'affar fila n'agguat
Percshing navig
Vec capri
Putes sta a abudami cu 10 kyle
O cardi b
10 cumpagn 10 affiliat senza libi
Saiz l'adv pur l'ax adv
Senza abs fuij ra ps tut psg
Gg class
Amg
Bimb int o passegin
Chiagn quant pass a volant
Passn primm po passn rop co passamontagn
Acquistam all'ast aiz na cristal hasta la vista
V crivellam
Vir e fo brav
Vien a napl e miet e fot quant t n vaij
Pffff
M sit
Real
Nuij sim o real madrid
IL LIVE
Geolier sarà tra i protagonisti dello show "Red Bull 64 Bars Live", a Scampia sabato 8 ottobre 2022.
Uno spettacolo unico, totalmente inedito dove il rap vivrà nella sua forma più pura.
Non sarà un classico concerto, ma un evento fuori dagli schemi mai visto prima per la sua forma e originalità, che vedrà esibirsi, oltre a Ernia, anche GUÈ, FIBRA, GEOLIER, MARRACASH e MADAME, supportati da dj TY1 in cabina di regia.