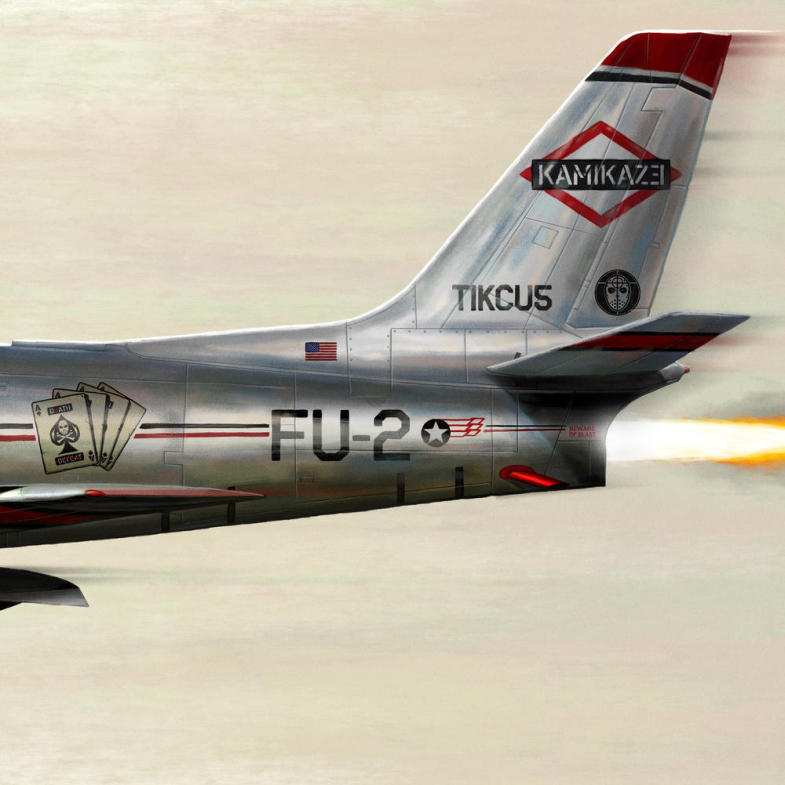 Cazzo come rappa Eminen. Assoluto. Bisognerebbe rendere obbligatorio a tutti i rapper e trapper pischelli che nascono come funghi, prima di fiatare qualsiasi barra, di ascoltare ore ed ore di sproloqui lirici sfornati da Eminem.
Kamikaze arriva inaspettato. Alla fine di questa estate all'insegna della trap. Eminem è critico e feroce come al solito.
Non risparmia nessuno dell'attuale scena rap.
Prende per il culo la trap, sbeffeggia e schernisce un po' tutti anche se con i beat ci si avvicina molto (Lucky You – Normal – Not Alike).
Kamikaze è un bel disco. Bellissimo se paragonato al pessimo Revival.
Volevamo Em così ed eccovelo servito su un piatto d'argento.
Il "vecchio" sentenzia.
Ascoltatelo ragazzi!
Cover:
La copertina dell'album Kamikaze si rifa alla copertina dell'album del 1986 dei Beastie Boys, Licensed to Ill.
Nella copertina di Licensed to Ill, "3MTA3" è scritto sul fondo dell'ala e una volta invertito si legge "Mangiami". Eminem ricrea lo stesso gioco con "TIKCU5" sul lato dell'aereo perché, quando è invertito si legge "Suck It". E poi scrive anche "FU-2" (un abbreviaton di "fuck you you").
Il marchio Eminem "E" è integrato nella copertina nella parola" Kamikaze ", che è collocata dove" Beastie Boys "era nella cover di Licensed to Ill.
Tre brano da ascoltare subito:
The Ringer – Lucky You – Good Guy
Quotes:
You'll turn around and just be like, "Man, how the fuck
Sourpuss gonna get mad just 'cause his album sucks?
And now he wants to take it out on us." (ooh)
But last week, an ex-fan mailed me a copy
Of The Mathers LP to tell me to study
It'll help me get back to myself and she'll love me (ooh)
I mailed the bitch back and said if I did that
I'd just be like everyone else in the fucking industry
Especially an effing Recovery clone of me (didn't I think)
So finger-bang, chicken wang, MGK, Iggy 'zae
Lil Pump, Lil Xan imitate Lil Wayne (The Ringer)
Just wanna be normal
Why can't you be normal? (yeah)
I just wanna be normal
Why can't you be normal? (Normal)
I'ma wash away my sins
I'ma rinse away this dirt
I forgot to make amends
To all the friends I may have hurt
I better stop and say my grace
From that I pray that I don't fall
'Cause on the way back down I may
End up runnin' back into them all
I never meant to use you all as my stepping stones
I never meant to make you feel like my stepping stones
I never meant to use you all for my stepping stones (Stepping Stone)
My attack is vicious, Jack the Ripper, back in business
Tyler create nothin', I see why you called yourself a faggot, bitch
It's not just 'cause you lack attention
It's 'cause you worship D12's balls, you're sack-religious
If you're gonna critique me, you better at least be as good or better
Get Earl the Hooded Sweater
Whatever his name is to help you put together
Some words, more than just two letters
The fans waited for this moment like that feature when I stole this show (ha), sorry if I took forever (haha) (
Tracklist:
The Ringer
Greatest
Lucky You (feat. Joyner Lucas)
Paul (skit, feat. Paul Rosengberg)
Normal
Em Calls Paul (skit, feat. Paul Rosenberg)
Stepping Stone
Not Alike (feat. Royce da 5'9″)
Kamikaze
Fall (Feat. Justin Vernon )
Nice Guy (feat. Jessie Reyez)
Good Guy (feat. Jessie Reyez)
Venom (Dalla colonna sonora di Venom)
Discografia:
1996 – Infinite
1999 – The Slim Shady LP
2000 – The Marshall Mathers LP
2002 – The Eminem Show
2004 – Encore
2009 – Relapse
2010 – Recovery
2013 – The Marshall Mathers LP 2
2017 – Revival
2018 – Kamikaze