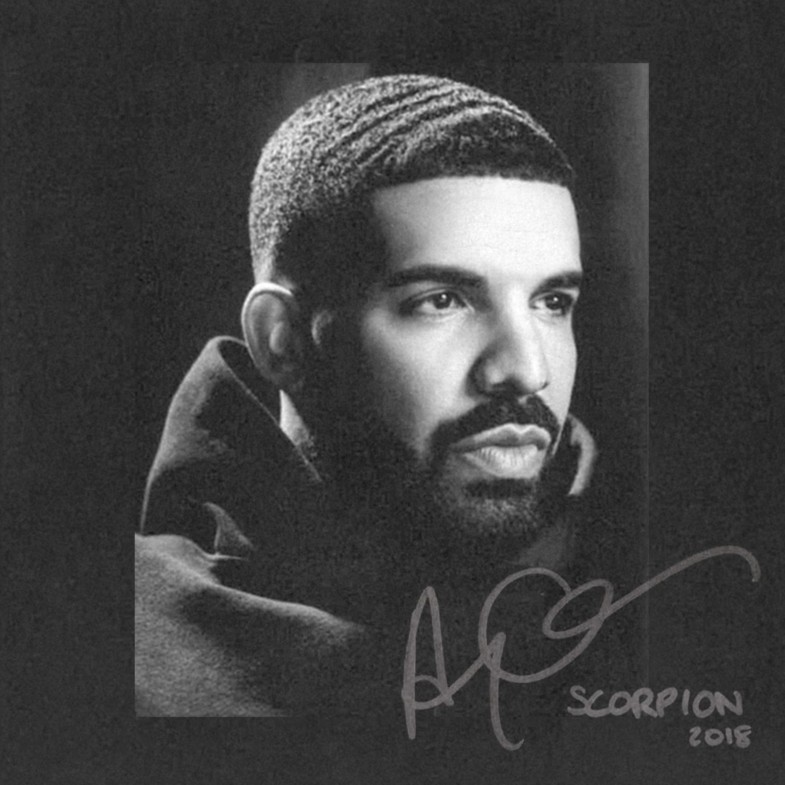 Side A e Side B. Non un disco doppio ma due dischi ben precisi. Due identità.
Una prima parte più cupa, introspettiva che racconta di se e del suo mondo fatto di illusioni e solitudine e una seconda più morbida, r&b orientata all'amore e alle donne raccontate nei più svariati contesti.
Un viaggio che va della sua non confermata paternità (Emotionless) fino a sua mamma (Sandra's Rose).
Il tutto montato su basi profonde, r&b dalle tinte scure dove la voce di Drake si innesta perfettamente nell'architettura sonora dando alla canzone il suo classico marchio di fabbrica.
Nei dischi svariate collaborazioni tra queste con Jay-Z per il singolo "Talk Up", Static Major & Ty Dolla Sign per "After Dark" e un impossibile duetto sulle note di "Don't Matter To Me" dove Drake duetta addirittura con il re del pop Michael Jackson.
Uno sforzo "monumentale" per affermare che è sempre lui il numero uno.
Cover:   Nella copertina una sua immagine fotografica autografata. Sul retro invece la track list.

Tre brano da ascoltare subito:  Emotionless – 8 Out Of 10 – Blue Tint

Quotes: 
Niggas want a classic, that's just ten of these
Crime family like the Genovese, you don't want drama, capisce?
My house is full of supermodels just like Mohamed Hadid
I take this shit too serious, you niggas my comic relief
I find it funny how I keep on talkin' and commas increase
I'm standin' at the top of where you niggas are climbin' to reach
I even got my very own initials inscribed on my sheets
Subtle reminders are key, jeez!
Spoiler alert: the second act is tragic
And everyone that wants the worst for me's askin' what happened
Backstabbed so many times I started walkin' backwards
Like Charlemagne, I see the light and see the darkest patches
Bury me and I'll be born again
I walk in godly form amongst the mortal men (Sandra's Rose)
Only holdin' up I do is my end of the bargain
Only beggin' that I do is me beggin' your pardon
Only tryin' that I do is me tryin' the hardest
Only problems I do are math problems with profit
Only lyin' I do is lyin' out in the tropics
Only cryin' I do is cryin' from laughin' 'bout it
Only lackin' I can do is my lack of responses
Only rest that I do is "Where the rest of my commas?"
Still I rise, Maya Angelou vibes
When life comin' at you from all angles and sides
And they don't wanna see that you smilin' from inside
It really boils down to how you plan to survive
Love certain ones but never get attached to 'em
Give 'em nice things, but what's that to 'em?
Especially when another girl I flew in is flickin' up in my bathroom
And they recognize the bathroom (Is There More)
Look who I'm fuckin' again, I had her on ice but then
I watched the ice get thin, now does she sink or swim?
She had an attitude in the summer, but she bein' nice again
Double my price again
Top of the charts, back in they hearts
Nigga he strikes again, woah
Some niggas bitter with life and they hate me
They wanna put knife in my ribs, woah
Way this shit set up I live like Ronaldo
But I never been in Madrid, woah
She said that that she workin', I told her come over
And we can get right at the crib, woah
She finish at six but then say she got court in the morning
To fight for her kid, I told her I'd pray for the kid (Blue Tint)
Tracklist:
A SIDE
1. Survival
2. Nonstop
3. Elevate
4. Emotionless
5. God's Plan
6. I'm Upset
7. 8 Out Of 10
8. Mob Ties
9. Can't Take A Joke
10. Sandra's Rose
11. Talk Up (ft.Jay-Z)
12. Is There More
B SIDE
1. Peak
2. Summer Games
3.Jaded
4. Nice For What
5. Finesse
6. Ratchet Happy Birthday
7.That's How You Feel
8. Blue Tint
9. In My Feelings
10. Don't Matter To Me (ft. Michael Jackson)
11. After Dark (ft. Static Major & Ty Dolla Sign)
12. Final Fantasy
13. March 14
Discografia: 
2010 – Thank Me Later
2011 – Take Care
2013 – Nothing Was the Same
2016 – Views
2018 – Scorpion