BACHARACH & COSTELLO tre decenni racchiusi in una raccolta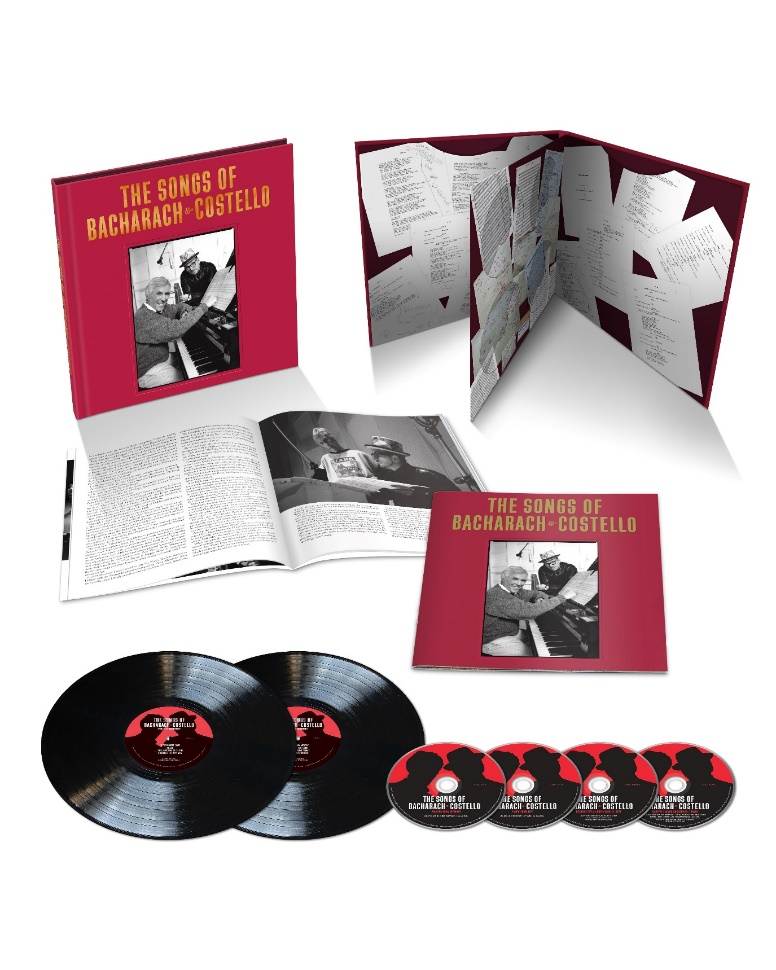 "The Songs of Bacharach & Costello" è il box set (in uscita il 3 marzo) che celebra i tre decenni di collaborazione tra Burt Bacharach e Elvis Costello.
La deluxe edition (4cd + 2lp) include lo storico album "Painted From Memory" rimasterizzato, "Taken From Life", brani inediti e performance live.
Il tutto è arricchito da un saggio di Costello sulla storia della loro collaborazione in studio e sul palco, incluse fotografie inedite e le prime bozze dei testi delle canzoni.
LA STORIA
Burt Bacharach (autore, arrangiatore, compositore e pianista, vincitore di 3 Academy Award e di 6 Grammy Award, con una carriera lunga ben settant'anni…) è sempre stato un'influenza creativa per Elvis Costello.
Dopo anni di ammirazione, testimoniata anche da registrazioni di brani di Bacharach, Costello ebbe finalmente l'opportunità di collaborare con Burt per la canzone "God Give Me Strength", inserita nella colonna sonora del film Grace Of My Heart (1996). La collaborazione tra i due musicisti continuò per tutto l'anno seguente con le registrazioni dell'album Painted From Memory, poi pubblicato nel 1998. L'album conteneva il brano "I Still Have The Other Girl" che vinse il Grammy Award per la categoria Best Pop Collaboration With Vocals nel 1999.
Nei seguenti 25 anni, Bacharach & Costello hanno saltuariamente collaborato creando altre canzoni. Questa nuova collezione personalmente compilata da Costello, The Songs of Bacharach & Costello, riassume l'intera storia: le prime cover di canzoni di Bacharach eseguite da Elvis con gli Attractions, l'album Painted From Memory, le performance dal vivo di Costello con il tastierista Steve Nieve del Lonely World tour, le canzoni tratte da Taken From Life, lo spettacolo teatrale con soggetto Painted From Memory e tre nuovissime registrazioni di Costello.
IL BOX SET
The Songs of Bacharach & Costello, 45 tracce in totale comprende:
· 3 nuove composizioni firmate da Bacharach e Costello: "Taken From Life" incisa nel 2022 da Elvis Costello con The Imposters e prodotta da Sebastian Krys e"You Can Have Her" e "Look Up Again", registrate da Elvis Costello nel 2021 con la direzione di Burt Bacharach e con arrangiamenti orchestrali di Vince Mendoza
· 19 tracce inedite: canzoni, demo e performance dal vivo incise tra il 1977 e il 1999
· Nuovo remastering dell'album Painted From Memory dai nastri master analogici a cura di Bob Ludwig e cutting del vinile realizzato da Ryan Smith agli Sterling Studios
· Taken From Life, 16 tracce che oltre ai tre nuovi brani comprendono canzoni scelte dallo spettacolo teatrale di Painted From Memory con protagoniste Audra Mae e Jenni Muldaur, dal disco di Bill Frisell The Sweetest Punch, in cui il chitarrista rielaborava l'album coinvolgendo musicisti come Cassandra Wilson e Don Byron e dalle session dell'album Look Now di Elvis e gli Imposters insieme a Burt Bacharach.
· 12 performance dal vivo di canzoni di Painted From Memory registrate negli anni 1998-99
The Songs of Bacharach & Costello viene presentato oggi in anteprima con le tre rare e inedite esibizioni dal vivo del 1998 e del 1999: "In The Darkest Place", registrata in duo con Nieve al pianoforte in Australia durante il Lonely World tour, "Painted From Memory", registrata a Stoccolma, sempre con Nieve e l'Orchestra Sinfonica della Radio Svedese ed infine, Costello e Bacharach dal vivo con orchestra alla Royal Festival Hall di Londra eseguono una sensazionale versione del successo di Dionne Warwick "Anyone Who Had A Heart".
Oltre al cofanetto Super Deluxe Edition, che sarà disponibile anche in digitale (streaming e download), The Songs of Bacharach & Costello uscirà in altri formati, 2CD, che includono Painted From Memory rimasterizzzato e Taken From Life e vinile, 2LP con Painted From Memory e selezioni da Taken From Life.
Painted From Memory è stato inoltre mixato digitalmente in versione Dolby Atmos.
LA TRACKLIST
THE SONGS OF BACHARACH & COSTELLO – SUPER DELUXE EDITION TRACKLISTING
CD1 – Painted From Memory (REMASTER 2023)
Elvis Costello & Burt Bacharach – In The Darkest Place
Elvis Costello & Burt Bacharach – Toledo
Elvis Costello & Burt Bacharach – I Still Have That Other Girl
Elvis Costello & Burt Bacharach – This House Is Empty Now
Elvis Costello & Burt Bacharach – Tears At The Birthday Party
Elvis Costello & Burt Bacharach – Such Unlikely Lovers
Elvis Costello & Burt Bacharach – My Thief
Elvis Costello & Burt Bacharach – The Long Division
Elvis Costello & Burt Bacharach – Painted From Memory
Elvis Costello & Burt Bacharach – The Sweetest Punch
Elvis Costello & Burt Bacharach – What's Her Name Today?
Elvis Costello & Burt Bacharach – God Give Me Strength
CD2 – Taken From Life
Elvis Costello – You Can Have Her*
Cassandra Wilson & Bill Frisell – Painted From Memory
Elvis Costello & The Imposters – Don't Look Now
Elvis Costello & The Imposters – Everyone's Playing House
Audra Mae – I Looked Away*
Elvis Costello & The Imposters – Taken From Life*
Don Byron & Bill Frisell – My Thief
Jenni Muldaur – Shameless*
Elvis Costello & The Imposters – Photographs Can Lie
Audra Mae – In The Darkest Place*
Elvis Costello & The Imposters – Why Won't Heaven Help Me?
Jenni Muldaur – Stripping Paper*
Elvis Costello & Imposters – He's Given Me Things
Audra Mae – What's Her Name Today?*
Elvis Costello – Look Up Again*
Burt Bacharach – Lie Back & Think Of England*
CD3 – Because It's A Lonely World – Live
Elvis Costello & Steve Nieve – Toledo Live In Tokyo, February 8, 1999*
Elvis Costello & Steve Nieve – In The Darkest Place Live In Melbourne, February 16, 1999
Elvis Costello & Steve Nieve – My Thief Live In Tokyo, February 8, 1999*
Elvis Costello & Steve Nieve – I Still Have The Other Girl, Live In Tokyo, February 10, 1999
Elvis Costello & Steve Nieve – I'll Never Fall In Love Again, Live In Toronto, June 16, 1999*
Elvis Costello & Steve Nieve – God Give Me Strength, Live In Toronto, June 16, 1999*
Elvis Costello, Steve Nieve & The Swedish Radio Symphony Orchestra – Painted From Memory, Live In Stockholm, January, 5, 1999*
Elvis Costello, Steve Nieve & The Swedish Radio Symphony Orchestra – What's Her Name Today? Live In Stockholm, January, 5, 1999*
Elvis Costello & Burt Bacharach – This House Is Empty Now Live In New York City, Nov. 27, 1998*
CD4 – Costello Sings Bacharach & David
Elvis Costello & The Attractions – I Just Don't Know What To Do With Myself, Live in Norwich, October 17, 1977
Elvis Costello & Nick Lowe – Baby It's You
Elvis Costello – Please Stay
Elvis Costello & Burt Bacharach – I'll Never Fall In Love Again
Elvis Costello & Burt Bacharach – Make It Easy On Yourself Live in London, October 29, 1998*
Elvis Costello & Burt Bacharach – My Little Red Book Live in London, October 29, 1998*
Elvis Costello & Burt Bacharach – Anyone Who Had A Heart Live in London, October 29, 1998*
Elvis Costello & Burt Bacharach – I Just Don't Know What To Do With Myself Live In New York City, – October 18, 1998*
2LP – The Songs Of Bacharach & Costello
LP1 – Side A – Painted From Memory
Elvis Costello & Burt Bacharach -In The Darkest Place
Elvis Costello & Burt Bacharach – Toledo
Elvis Costello & Burt Bacharach – I Still Have That Other Girl
Elvis Costello & Burt Bacharach – This House Is Empty Now
LP1 – Side B – Painted From Memory
Elvis Costello & Burt Bacharach – Tears At The Birthday Party
Elvis Costello & Burt Bacharach – Such Unlikely Lovers
Elvis Costello & Burt Bacharach – My Thief
Elvis Costello & Burt Bacharach – The Long Division
LP2 – Side A – Painted From Memory
Elvis Costello & Burt Bacharach – Painted From Memory
Elvis Costello & Burt Bacharach – The Sweetest Punch
Elvis Costello & Burt Bacharach – What's Her Name Today?
Elvis Costello & Burt Bacharach – God Give Me Strength
LP2 – Side B – Selections From Taken For Life
Elvis Costello – You Can Have Her*
Audra Mae – Don't Look Now*
Audra Mae – I Looked Away*
Elvis Costello & The Imposters – Taken From Life*
Audra Mae – What's Her Name Today?*
Elvis Costello – Look Up Again*
2CD – The Songs Of Bacharach & Costello
CD1 – Painted From Memory (REMASTER 2023)
Elvis Costello & Burt Bacharach – In The Darkest Place
Elvis Costello & Burt Bacharach – Toledo
Elvis Costello & Burt Bacharach – I Still Have That Other Girl
Elvis Costello & Burt Bacharach – This House Is Empty Now
Elvis Costello & Burt Bacharach – Tears At The Birthday Party
Elvis Costello & Burt Bacharach – Such Unlikely Lovers
Elvis Costello & Burt Bacharach – My Thief
Elvis Costello & Burt Bacharach – The Long Division
Elvis Costello & Burt Bacharach – Painted From Memory
Elvis Costello & Burt Bacharach – The Sweetest Punch
Elvis Costello & Burt Bacharach – What's Her Name Today?
Elvis Costello & Burt Bacharach – God Give Me Strength
CD2 – Taken From Life
Elvis Costello – You Can Have Her*
Cassandra Wilson & Bill Frisell – Painted From Memory
Elvis Costello & The Imposters – Don't Look Now
Elvis Costello & The Imposters – Everyone's Playing House
Audra Mae – I Looked Away*
Elvis Costello & The Imposters – Taken From Life*
Don Byron & Bill Frisell – My Thief
Jenni Muldaur – Shameless*
Elvis Costello & The Imposters – Photographs Can Lie
Audra Mae – In The Darkest Place*
Elvis Costello & The Imposters – Why Won't Heaven Help Me?
Jenni Muldaur – Stripping Paper*
Elvis Costello & Imposters – He's Given Me Things
Audra Mae – What's Her Name Today?*
Elvis Costello – Look Up Again*
Burt Bacharach – Lie Back & Think Of England*
*BRANI INEDITI