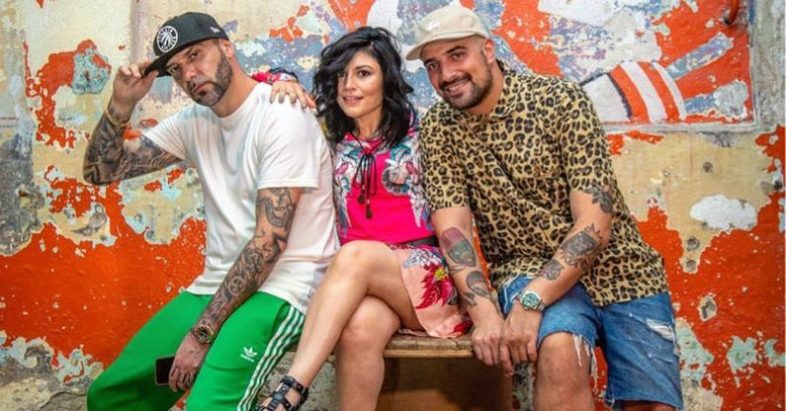 Come da prassi, abbiamo raccolto e ordinato le 100 hits del 2018.
La classifica è data da una media ponderata dei download/streaming (FIMI) e airplay (EarOne), con un
occhio aperto anche sul risultato degli album.
1 TAKAGI & KETRA FEAT. GIUSY FERRERI Amore e capoeira
2 GHALI Cara Italia
3 BOOMDABASH FEAT. LOREDANA BERTE' Non ti dico no
4 MANESKIN Torna a casa
5 SFERA EBBASTA Rockstar
6 LO STATO SOCIALE Una vita in vacanza
7 CARL BRAVE FEAT. FRANCESCA MICHIELIN & FABRI FIBRA Fotografia
8 THEGIORNALISTI Felicità puttana
9 ALVARO SOLER La cintura
10 NEGRAMARO La prima volta
11 BABY K Da zero a cento
12 MAROON 5 FEAT. CARDI B Girls Like You
13 ULTIMO Il ballo delle incertezze
14 ALICE MERTON No Roots
15 JOVANOTTI Le canzoni
16 FABIO ROVAZZI Faccio quello che voglio
17 IMAGINE DRAGONS Whatever It Takes
18 MIHAIL Who You Are
19 LUCA CARBONI Una grande festa
20 IRAMA Nera
21 SALMO 90min
22 J-AX & FEDEZ Italiana
23 CALVIN HARRIS X DUA LIPA One Kiss
24 ELISA Se piovesse il tuo nome
25 TOM WALKER Leave A Light On
26 DAVID GUETTA & SIA Flames
27 THEGIORNALISTI Questa nostra stupida canzone d'amore
28 TIESTO & DZEKO FEAT. PREME & POST MALONE Jackie Chan
29 BURAK YETER & CECILIA KRULL My Life Is Going On
30 RUDIMENTAL FEAT. JESS GLYNNE & MACKLEMORE These Days
31 IMAGINE DRAGONS Next To Me
32 ELODIE, MICHELE BRAVI & GUE' PEQUENO Nero Bali
33 LENNY KRAVITZ Low
34 DARK POLO GANG British
35 CESARE CREMONINI Nessuno vuole essere Robin
36 CHARLIE PUTH How Long
37 DUA LIPA IDGAF
38 DRAKE God's Plan
39 U2 Get Out Of Your Own Way
40 TAKAGI & KETRA FEAT. ELISA & TOMMASO PARADISO Da sola (in the night)
41 BENJI & FEDE Moscow Mule
42 BOB SINCLAR I Believe
43 ERMAL META & FABRIZIO MORO Non mi avete fatto niente
44 POST MALONE Better Now
45 J-AX Tutto tuo madre
46 CAPO PLAZA FEAT. SFERA EBBASTA Tesla
47 ANNALISA Il mondo prima di te
48 THEGIORNALISTI New York
49 PORTUGAL.THE MAN Live In The Moment
50 CALCUTTA Paracetamolo
51 MUSE Something Human
52 LAURA PAUSINI Non è detto
53 THIRTY SECONDS TO MARS Dangerous Night
54 CALVIN HARRIS & SAM SMITH Promises
55 KENDRICK LAMAR & SZA All Stars
56 LOST FREQUENCIES & ZONDERLING Crazy
57 ZEDD & GREY FEAT. MAREN MORRIS The Middle
58 RVSSIAN & SFERA EBBASTA Pablo
59 JUSTIN TIMBERLAKE FEAT. CHRIS STAPLETON Say Something
60 BETTA LEMME Bambola
61 LADY GAGA & BRADLEY COOPER Shallow
62 GUE' PEQUENO Bling Bling (Oro)
63 GEMITAIZ FEAT. COEZ Davide
64 GIORGIA & MARCO MENGONI Come neve
65 FRANCESCA MICHIELIN Io non abito al mare
66 MATT SIMONS We Can Do Better
67 NICKY JAM & J. BALVIN X
68 MAKESKIN Morirò da re
69 CELESTAL Old School Romance
70 MERK & KREMONT FEAT. DNCE Hands Up
71 BAZZI Mine
72 FEDEZ Prima di ogni cosa
73 SHAWN MENDES Lost In Japan
74 JESS GLYNNE All I Am
75 ELETTRA LAMBORGHINI Pem pem
76 EMMA Mi parli piano
77 CHARLIE CHARLES, SFERA EBBASTA & GHALI Peace & Love
78 BRUNO MARS FEAT. CARDI B Finesse
79 EMIS KILLA Rollercoaster
80 ANASTASIO La fine del mondo
81 ENRICO NIGIOTTI FEAT. GIANNA NANNINI Complici
82 SHADE FEAT. FEDERICA CARTA Irraggiungibile
83 LIAM PAYNE & RITA ORA For You (Fifty Shades Freed)
84 MARCO MENGONI Voglio
85 LUIS FONSI & DEMI LOVATO Echame la culpa
86 ALESSANDRA AMOROSO La stessa
87 LE VIBRAZIONI Così sbagliato
88 EROS RAMAZZOTTI Vita ce n'è
89 DJ SNAKE FEAT. SELENA GOMEZ, OZUNA & CARDI B Taki Taki
90 ARIANA GRANDE No Tears Left To Cry
91 TIROMANCINO Noi casomai
92 VEGAS JONES Malibu
93 CAPAREZZA Una chiave
94 FRED DE PALMA FEAT. ANA MENA D'estate non vale
95 XXXTENTACION Sad!
96 BIAGIO ANTONACCI FEAT. MARIO INCUDINE Mio fratello
97 GIORGIA Le tasche piene di sassi
98 GAZZELLE Sopra
99 GEORGE EZRA Shotgun
100 MOTTA La nostra ultima canzone