Playlist: Le 500 Hits internazionali degli anni '90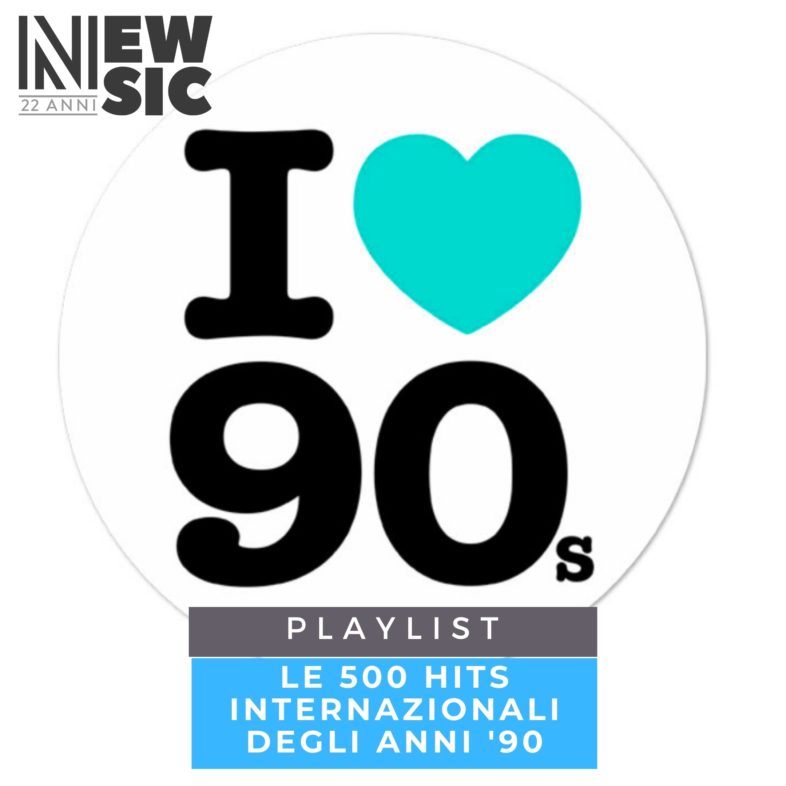 Come per gli anni '80, abbiamo individuato e raccolto in una speciale playlist tutte le più grandi hits degli anni '90: 500 brani per oltre 24 ore di musica senza tempo.
Fra rock, pop, rap e R'n'B, dance ed elettronica, musica latina e sperimentazioni, gli anni '90 propongono una varietà musicale rara, mentre il supporto digitale, con il CD, fanno uscire dalla produzione di massa musicassette e dischi in vinile.
Per la quota rock, continuano a spopolare Metallica, AC/DC, U2, Bon Jovi, Scorpions, Cure, Guns N' Roses, Aerosmith, Roxette, Bruce Springsteen, Bryan Adams, sui generis i Depeche Mode, mentre salgono alla ribalta Red Hot Chili Peppers, R.E.M, Lenny Kravitz, Alanis Morissette, Cranberries, Skunk Anansie, No Doubt, Garbage, Radiohead. Notevoli gli exploit di due sottogeneri come il punk rock con i Green Day e gli Offspring e il grunge, con gli alfieri Nirvana, Pearl Jam, Hole, Soundgarden, Smashing Pumpkins. Freddie Mercury muore il 24 novembre 1991, dopo il successo dell'ultimo album coi Queen, "Innuendo".
Il pop non sta certo a guardare, anzi, e cala assi fondamentali: accanto alla conferma di icone come Madonna, Michael Jackson, Whitney Houston, George Michael, Sting, Simply Red, Janet Jackson e una Annie Lennox solista, emergono con prepotenza Britney Spears, Christina Aguilera, Robbie Williams, Celine Dion, Mariah Carey, Seal, Des'Ree, Jennifer Lopez e band come Ace of Base, Savage Garden, Lighthouse Family. Discorso a parte per popstar come Tina Turner e Cher che riescono a tornare alla ribalta con sonorità dance attuali.  Rinasce Carlos Santana, che con l'album "Supernatural" con duetti eccellenti a cavalllo fra questo decennio e quello degli anni 2000 vende 30 milioni di copie nel mondo e si porta a casa 8 Grammy.
Esplode il fenomeno delle boy band e delle girl band: dopo i New Kids on the Block, arrivano Take That, Spice Girls, Backstreet Boys, East 17, Boyzone, 5ive, Westlife, All Saints, Ultra, Hanson, TLC, B*Witched…
Altri highlights tra pop e rock da registrare, a volte effimeri: Natalie Imbruglia, Sinead O'Connor, Goo Goo Dolls, 4 Non Blondes, Lene Marlin, Anggun, Chumbawamba, Toni Braxton, R. Kelly, Fool's Garden, Anouk, Tasmin Archer, Jennifer Paige, Eagle-Eye Cherry, Joan Osborne.
Nelle classifiche si fa largo il Britpop, con Oasis, Verve, Blur, Suede, mentre il country tipicamente USA viene sdoganato nel mondo da Sheryl Crow e, soprattutto, da Shania Twain, che con "Come On Over" vende 33 milioni di copie e a oggi l'album detiene il record come il più venduto da una cantante femminile e come disco country più venduto della storia della musica.
Invade le charts anche il rap: 2pac, Notorious B.I.G. (entrambi deceduti a seguito di sparatorie), Puff Daddy, Coolio, Shaggy, Eminem, Fugees, MC Hammer, Missy Elliott, Kris Kross…
Dall'altra, è il decennio in cui la dance commerciale e l'house lasciano segni indelebili: dall'estero arrivano Aqua, Snap!, Haddaway, La Bouche, Crystal Waters, Robin S, Scatman John, Rednex, Cartoons, Culture Beat, Faithless, M People, Mousse T, la french touch dei Daft Punk; l'Italia piazza successi internazionali da milioni di copie come Robert Miles, Corona, Eiffel 65, Double You, Gala, Cappella, Tamperer, Neja, U.S.U.R.A., Datura, mentre Gigi D'agostino sonda il terreno per esplodere nel decennio successivo con "L'amour toujours".
Doverosa parentesi per la musica latina: Gloria Estefan continua a portarla con successo nel mondo, seguita da Ricky Martin, Rosana, Enrique Iglesias, Lou Bega, Jarabe de Palo, Marie Claire D'Ubaldo, Los del Rio con il tormentone per eccellenza, "Macarena".
C'è spazio anche per fenomeni più trasversali come l'acid jazz di Jamiroquai, l'elettronica di Moby, Fatboy Slim, Underworld e Chemical Brothers, la techno e l'hardcore dei Prodigy, la world music di Manu Chao, il pop sperimentale di Bjork, il trip hop dei Massive Attack, dei Morcheeba e degli Smoke City, l'indie rock di Beck, il progetto new age di Michael Cretu Enigma.
Come per gli anni '80, anche nei '90 film di successo si accompagnano con brani immortali, come "Guardia del corpo" ("I Will Always Love You" di Whitney Houston vende 16 milioni e diventa il singolo più venduto nella storia cantato da una donna), "Robin Hood – Principe dei ladri" ((Everything i Do) I Do It For You di Bryan Adams), Titanic ("My Heart Will Go On" di Celine Dion), "Armageddon" (I Don't Want Miss a Thing degli Aerosmith), "Pretty Woman" ("It Must Have Been Love" dei Roxette), "Men in Black" (col singolo omonimo di Will Smith), "City of Angels – La città degli angeli" ("Iris" dei Goo Goo Dolls e "Angel" di Sarah McLachlan), "Philadelphia" ("Streets of Philadelphia" di Bruce Springsteen), "Quattro matrimoni e un funerale" ("Love Is All Around" dei Wet Wet Wet), "Trainspotting" ("Born Slippy" degli Underworld), "Goldeneye" di James Bond (col brano omonimo di Tina Turner), "Romeo + Giulietta di William Shakespeare" ("Lovefool" dei Cardigans), "Il Re Leone" (con la colonna sonora firmata Hans Zimmer e il contributo di Elton John), "Il principe d'Egitto" ("When You Believe" di Mariah Carey e Whitney Houston); anche le serie tv, vero fenomeno del piccolo schermo del decennio tanto da diventare veri e propri cult, portano nelle case di milioni di persone la rispettiva soundtrack: "Twin Peaks" (Angelo Badalamenti), "X-Files" (firma Mark Snow), "Friends" ("I'll Be There For You" dei Rembrandts), "Dawson's Creek" ("I Don't Want To Wait" di Paula Cole).
LA PLAYLIST